English at St Augustine's
Where appropriate, English is linked to our thematic curriculum. Programmes of Study for Reading and Writing are linked to the termly topics and relevant writing genres are taught in context. For example, in the Year 6 topic 'The World at War' children will write extended narrative pieces with flashbacks, newspaper reports and diary extracts. These will all be in the context of the topic theme.
Reading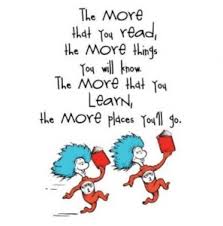 At St. Augustine's Primary School, our vision is to create children who have a lifelong love of reading! We try to ensure that our children are excited and enthusiastic by what they read. We aim to create an atmosphere of excitement, interest and escapism by engaging children in a range of appropriate texts.
Reading is a key part of the English curriculum and is happening all the time in the classroom. It is taught in specific reading and English lessons but children are constantly practising their reading skills in the wider curriculum. Reading has been a great success at St. Augustine's for many years. Much of this success can be attributed to the support and encouragement that children are given from reading with parents at home. Strong home-school partnerships are highly beneficial to reading development throughout a child's time at school.
At school, pupils are given access to a wide range of reading material from reading schemes, the school library, class libraries, textbooks, newspapers and more. Children choose their own reading book either from a book band that is appropriate to their reading ability, their class library or the school library. It is important to remember that reading is not only about being able to read the words but to read them with understanding to be able to answer questions about the text – including where answers may need to be inferred, suggested or implied.
At St Augustine's we use the Oxford Reading Tree scheme. Children are given school reading books according to their ability and phonic level.  The books are banded in colours and the children progress through the coloured stages as appropriate. They take home their books to read with their parents or guardians.  The books are also shared with class teachers and teaching assistants each week. Within each colour band, there is a section of 'free reading books' that children can progress to once they have shown they are able to read a variety of texts confidently from the scheme readers. This helps to expose the children to a wide variety of text types and genres.
The 'Letters & Sounds' approach to teaching phonics is used throughout EYFS and Key Stage 1 and, where appropriate, into Key Stage 2. Formal phonics sessions take place every day according to pupil ability and are delivered by class teachers and teaching assistants.
What is reading?
Reading is making meaning from print. It requires that we:
Identify the words in print – a process called word recognition
Construct an understanding from them – a process called comprehension
Co-ordinate identifying words and make meaning so that reading is automatic and accurate – an achievement called fluency
As children move through EYFS and KS1, they develop their skills in decoding. By the time they reach KS2 most children have mastered their phonic skills and the balance moves towards making meaning from the text and developing fluency.
Reading Expectations at St Augustine's
We expect every child to read to an adult at home on a daily basis for 10 to 20 minutes. Whilst this is only an expectation, we hope you appreciate the impact this can have on your child's education. We do appreciate that life is very busy and sometimes it might not be possible to listen to your child read every day.
Writing at St Augustine's
At St. Augustine's RC Primary School, It is our vision that every child will learn to become a confident writer by being given, exciting, inspiring opportunities to engage, support and challenge them. We want our children to become capable, independent and enthusiastic writers who will develop a genuine love of writing.
Children will use writing as a way of expressing themselves and communicating with others and will write independently for a wide range of purposes. They will reflect on their own work and that of others and be able to see the impact that their writing can have.
Downloads