English at St Augustine's
Where appropriate, English is linked to our thematic curriculum. Programmes of Study for Reading and Writing are linked to the termly topics and relevant writing genres are taught in context. For example, in the Year 6 topic 'The World at War' children will write extended narrative pieces with flashbacks, newspaper reports and diary extracts. These will all be in the context of the topic theme.
Reading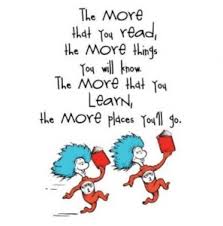 At St. Augustine's Primary School, our vision is to create children who have a lifelong love of reading! We try to ensure that our children are excited and enthusiastic by what they read. We aim to create an atmosphere of excitement, interest and escapism by engaging children in a range of appropriate texts.
Reading is a key part of the English curriculum and is happening all the time in the classroom. It is taught in specific reading and English lessons but children are constantly practising their reading skills in the wider curriculum. Reading has been a great success at St. Augustine's for many years. Much of this success can be attributed to the support and encouragement that children are given from reading with parents at home. Strong home-school partnerships are highly beneficial to reading development throughout a child's time at school.
At school, pupils are given access to a wide range of reading material from reading schemes, the school library, class libraries, textbooks, newspapers and more. Children choose their own reading book either from a book band that is appropriate to their reading ability, their class library or the school library. It is important to remember that reading is not only about being able to read the words but to read them with understanding to be able to answer questions about the text – including where answers may need to be inferred, suggested or implied.
What is reading?
Reading is making meaning from print. It requires that we:
Identify the words in print – a process called word recognition
Construct an understanding from them – a process called comprehension
Co-ordinate identifying words and make meaning so that reading is automatic and accurate – an achievement called fluency
As children move through EYFS and KS1, they develop their skills in decoding. By the time they reach KS2 most children have mastered their phonic skills and the balance moves towards making meaning from the text and developing fluency.
Phonics & Early Reading at St Augustine's
At St. Augustine's, we recognise that mastery in phonics is fundamental to children being able to access a broad range of fiction and non-fiction texts across the curriculum. We aim to achieve this by teaching phonics systematically with a relentless drive to address the needs of all learners.
We have implemented the synthetic phonics programme 'Little Wandle Letters and Sounds Revised'; this is a method of learning letter sounds and blending them together to read and write words.
Little Wandle Letters and Sounds Revised is a complete systematic synthetic phonics programme (SSP). We prioritise the teaching of phonics; we teach phonics daily in Reception and Year 1. It is vitally important that children review and revisit Grapheme Phoneme Correspondences (GPCs) and words, daily, weekly and across terms and years, in order to move this knowledge into the children's long-term memory. Our consistent approach to phonics ensures that children are given the best possible foundation for reading, writing and language skills. 
Children need to learn to read as quickly and reasonably as possible, so that they can move from learning to read, to reading to learn, opening up new worlds and adventures to them. Our expectations of progression are aspirational yet achievable; children who are not keeping up with their peers will be given additional practise immediately through keep-up sessions.
Children enjoy a range of multi-sensory resources to support their phonics learning. On-going assessment of children's progress takes place and the books children read in school and take home to read are fully decodable and matched to children's secure phonics knowledge. As well as fully decodable books, children take home a non-decodable book for sharing that can be either read to or with them. These books play an essential role in developing a love of reading and language; an important distinction is that these books are being shared with the children, but they are using fully phonically decodable books to practise their independent reading.
The table below is a summary based on the phonics progression:
Phase
Phonic Knowledge and Skills

Phase One

 (Nursery)

Activities are divided into seven aspects, including environmental sounds, instrumental sounds, body sounds, rhythm and rhyme, alliteration, voice sounds and finally oral blending and segmenting.

Phase Two

 (Reception) Autumn 1 and 2

Learning 19 letters of the alphabet and one sound for each. Blending sounds together to make words. Segmenting words into their separate sounds. Beginning to read simple captions.

Phase Three

 (Reception) Spring 1 and 2

Graphemes such as ai, ee, igh representing the remaining phonemes not covered by single letters. Reading captions, sentences and questions. On completion of this phase, children will have learnt the "simple code", i.e. one grapheme for each phoneme in the English language.

Phase Four

 (Reception) Summer 1 and 2

No new grapheme-phoneme correspondences are taught in this phase. Children learn to blend and segment longer words with adjacent consonants, e.g. swim, clap, jump.

Phase Five

 (Throughout Year 1)

Now we move on to the "complex code". Children learn more graphemes for the phonemes which they already know, plus different ways of pronouncing the graphemes they already know.

Phase Six

 (Throughout Year 2 and beyond)

Working on spelling, including prefixes and suffixes, doubling and dropping letters in line with the National Curriculum. 
You can find resources to support your child with their letter sounds, reading and letter formation by visiting the Little Wandle website – https://www.littlewandlelettersandsounds.org.uk/resources/for-parents/ 
Reading Expectations at St Augustine's
We expect every child to read to an adult at home on a daily basis for 10 to 20 minutes. Whilst this is only an expectation, we hope you appreciate the impact this can have on your child's education. We do appreciate that life is very busy and sometimes it might not be possible to listen to your child read every day.
Writing at St Augustine's
At St. Augustine's RC Primary School, It is our vision that every child will learn to become a confident writer by being given, exciting, inspiring opportunities to engage, support and challenge them. We want our children to become capable, independent and enthusiastic writers who will develop a genuine love of writing.
Children will use writing as a way of expressing themselves and communicating with others and will write independently for a wide range of purposes. They will reflect on their own work and that of others and be able to see the impact that their writing can have.