Learning Outside the Classroom
At the core of the curriculum in England is the statement that every state-funded school must offer a curriculum which is balanced and broadly based and which:
promotes the spiritual, moral, cultural, mental and physical development of pupils at the school and of society, and prepares pupils at the school for the opportunities, responsibilities and experiences of later life.
Here at St. Augustine's, we are committed to providing an outdoor learning approach to enhance teaching and learning opportunities throughout the curriculum and to follow these key points for all children.
Taking learning outside the classroom enables pupils to apply what they have learnt inside the classroom in a real world context and equips them with skills they will need for real life and employment, (communication skills, team working, problem solving and risk management to name just a few). The benefits in terms of physical and mental health, expanding the horizons of young people and changing their environmental behaviours and attitudes are also well evidenced.
We are lucky in that we have excellent open air spaces available to us within walking distance of the school that we visit regularly throughout the year:
Stewart Park.
Fairy Dell.
We will also plan to take children further afield as part of their learning and giving them the opportunity to stimulate curiosity relating to the topics we study each term and promote excitement in their learning:
Beach
Countryside
Farms
Castle Eden Walkway
Historic places of interest ie: museums, castles, abbeys.
Please see our curriculum overview for our academic year.
We are members of the Council for Learning Outside the Classroom. We were awarded the LOtC Silver Award in recognition of our commitment to providing stimulating learning experiences in this area and through the support and commitment of all our teaching staff, parents and governors, we strive to work towards the Gold award.
Click here to access the Council for Learning Outside the Classroom website.
St. Augustine's LOtC Mission Statement
Nursery superhero stay and play session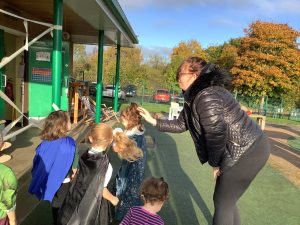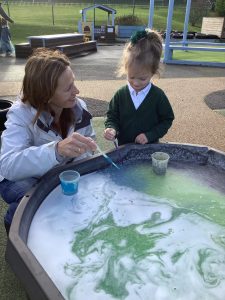 Nursery finding Superworm in the mud kitchen
Year 3 visit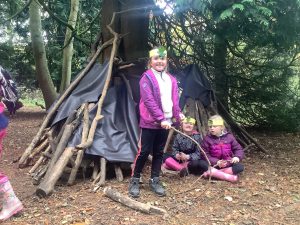 Reception visiting the school firepit