Music At St. Augustine's
Music Policy 
Subject Curriculum Overview 2021 – 2022
Intent
We will inspire our children to appreciate the power of music through exciting memorable learning experiences that will allow them to demonstrate their musical talents and capabilities.
At St. Augustine's, we will lay the foundations for children to have a lifelong appreciation of music. We promote a love of singing, playing and listening through a variety of contexts. We demonstrate how music can make us happy, motivated and focused. By the end of KS2, we aim for children to be equipped with the skills, knowledge and understanding to be able to take their love of music to highest possible level.
Implementation
Our music curriculum is delivered in a range of exciting ways. Each class explores and learns key skills in music through our Tees Valley Music Service (TVMS) Charanga scheme. Not only does this scheme compliment the intent behind our music curriculum, but it also provides a range of units that can be taught 'freestyle' in order to make our curriculum bespoke to our students.
Alongside our Charanga scheme, classes across school receive provision from TVMS including Ukulele sessions (KS2) and Snappy Classroom (EYFS and KS1).
We are very lucky at St. Augustine's to also receive additional music provision from Mr. Timothy Harrison (Director of Music in the Diocese of Middlesbrough). For year's 2 – 6, Mr. Harrison delivers music sessions that cover a range of skills. The children have the opportunity to sing liturgical hymns and songs but also develop their musical awareness by exploring key features of music such as notation and composition.
Impact
Teachers will be able to monitor the progress of their pupils against our Music Key Performance Indicators (KPIs) using Charanga's helpful evidencing system which allows staff to upload both pictures and videos of their pupils to demonstrate and evidence their progress in music. We also value our student voice and have used a range of methods so far including questionnaires and focus groups to assess our pupils' views of music and the opportunities they receive both in and outside of the classroom.
Remote Learning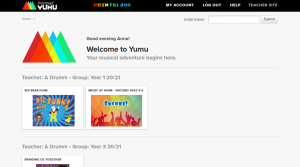 Each child has been provided with their own personal login to Charanga's YUMU online space where students can learn, play and develop their musicianship. This platform is dedicated to supporting students' music-making between lessons with assignments and student-friendly independent learning packages. In the event of bubble or school closure – this site will be used to support learning in Music at home.
If your child does not have their login – please contact their class teacher for support.
https://charanga.com/music-world
Our Music Clubs
After half term, we will be recommencing our popular music clubs..
St. Augustine's School Choir
St. Augustine's school choir is a group of approximately 30 children who are passionate about singing. Throughout the year, they rehearse a range of hymns and songs in preparation for performances and celebrations.
In previous years, the choir had a fantastic time at the Snappy events and Music in mInd Dementia friendly events.
St. Augustine's Ukulele Club
Our KS2 Ukulele club is very popular with students and compliments the TVMS sessions they receive in UKS2. In this club we focus on learning how to tune our instruments, how to play a range of chords and ultimately build up a bank of songs to play together. We hope to prepare for a showcase to students and parents at the end of the year.
Gallery
Videos