Welcome to our page dedicated to Catholic Life of our school. On this page, you will find information about how how we support our children in finding Christ in their daily lives.We have included information about our collective worship, prayer stations as well as details of special events such at the year of St Joseph and the anniversary year of Laudato Si.
Please scroll down to see our photo gallery. 
To support our children and families at home, you will also find a link the latest Wednesday Word and details of our current Statement to Live by.
 Vision, Mission and Values Statements
Collective Worship Policy 2020 f
St Augustine's is a family with a strong sense of belonging both within the school and the wider community.
We aim to fulfil The Bishop's Vision 'to make Christ known and loved, through the provision of excellent Catholic education and schools intent on finding Christ in their daily lives and sharing that encounter with others.'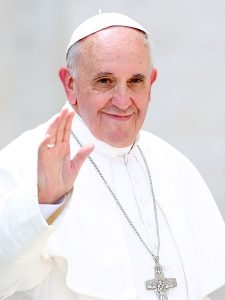 "Children are a gift. They are a gift. Each one is unique and unrepeatable, and at the same time unmistakably linked to his or her roots. Indeed, to be a son or a daughter according to God's plan means carrying in oneself the memory and hope of a love that has become tangible by kindling the life of another human being, original and new."
Pope Francis
The children at St Augustine's use their gifts to contribute to the life of the school and wider community in many different ways. Staff, Children and governors all live out in thought, word and action and all pupils clearly understand what it means to serve the Lord in all they do.
The children understand the Catholic nature of our school and our Mission Statement and can discuss its meaning and relevance to their own lives.
Collective Worship
Our children plan, lead and participate in collective worship within their classes, Key Stages and for whole school gatherings.
Prayer Spaces
Our Mini Vinnies and Chaplaincy children plan, organise and share prayer stations in our school chapel. Prayer spaces give children a an opportunity to develop skills of personal reflection and to explore prayer in an open, inclusive and safe environment.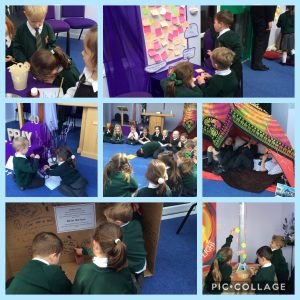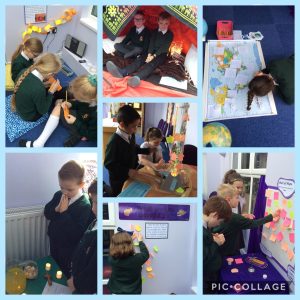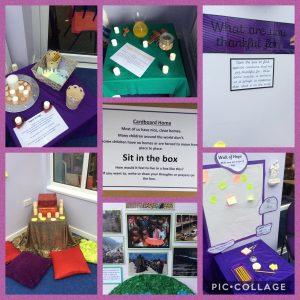 Our prayer space-a lovely place to pray and reflect.
School Choir
The school choir sing at care homes and the local shopping centre at Christmas time.
Love thy Neighbour 
Our school community is involved in creating Christmas hampers to support CAUSE, a charity supporting less fortunate families in our local area. We have made hampers which are delivered to the needy in our wider community, including asylum seekers and The Upper Room homeless charity.
Sharing the Gospel at home
Please find below a copy of the latest edition of Wednesday Word
Celebrating Catholic Life – click on our gallery below
The Year of St Joseph
St Joseph's fatherhood of Jesus is "the earthly shadow of the heavenly Father."
Fathers are not born, but made. A man does not become a father simply by bringing a child into the world, but by taking up the responsibility to care for that child.
Pope Francis
On December 8, 2020, the 150th anniversary of the declaration of Saint Joseph as Patron of the Universal Church, Pope Francis issued an Apostolic Letter entitled Patris corde ("With a Father's Heart"). In that beautiful letter, the Holy Father proclaimed a "Year of Saint Joseph" from December 8, 2020, to December 8, 2021.
To support your prayer at home:
Each month we will take a different theme to reflect on inspired by St Joseph.
We hope that you will be able to use these ideas to grow in faith during this special year.
Included are things to do with resource ideas. If you don't have access to all of these things at home, we hope that the suggestions might give your family inspiration to do something to explore the gospel and themes.
In school, we will also be involved in lots of exciting activities. We will let your family know what we are doing with regular updates on our school website, newsletters and through social media.
This is the family prayer sheet for March:
March YoSJ family prayer resource
Laudato SI' Anniversary Year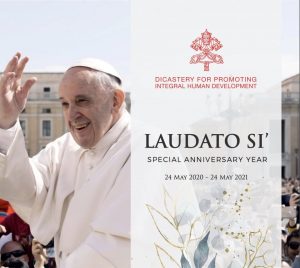 On 24 May 2015 Pope Francis signed Laudato Si', the
watershed encyclical letter that called world's attention
to the increasingly precarious state of our common
home. Five years on the encyclical appears ever more
relevant.
The fifth anniversary of the encyclical comes in the midst
of another watershed moment – a global pandemic –
and Laudato Si's message is just as prophetic today as
it was in 2015.
The encyclical can indeed provide the
moral and spiritual compass for the journey to create a
more caring, inclusive, peaceful and sustainable world.
We have, in fact, a unique opportunity to transform the
present groaning and travail into the birth pangs of a
new way of living together, bonded together in love,
compassion and solidarity, and a more harmonious
relationship with the natural world, our common home.
Truly,
Each class has produced a beautiful piece of artwork in response to the Laudato Si anniversary prayer.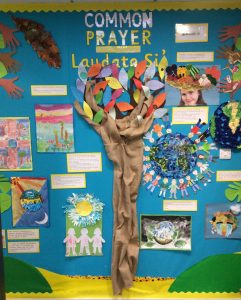 The Mini Vinnies and Chaplaincy team planted our prayer garden with our RE governor, Mrs. Lyth.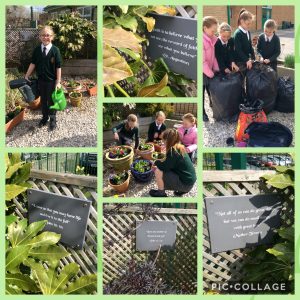 Statements To Live By
This week's statement is –
I try to keep going when things get difficult and not give up hope.
In Jesus' time there were many beggars who would hold out their hands to people passing by in the hopes that they would give them some money. Life was very difficult for poor and disabled people. They hoped that others would be generous so that they could have something to eat.
This reading tells the story of one such person.
Mark 10 v 46 -52
                  As Jesus was leaving Jericho with his disciples and a large crowd, the son of Timaeus, Bartimaeus, a blind beggar was sitting along the road.
Hearing that it was Jesus of Nazareth, he began to shout and say, "Son of David, Jesus, take pity on me!" And many people scolded him severely and told him to be silent. But he cried even louder, "Son of David, take pity on me!"
Jesus stopped and said, "Call him!" They called the blind man and said, "Be brave, and get up. He's calling you!" Then he threw off his coat and leaped toward Jesus.
Jesus spoke to him and said, "What do you want for me to do for you?" The blind man said,"Rabbi, I would like to see!" And Jesus said, "Go, your faith has saved you. And he followed Jesus on his way
 The Gospel of the Lord
 Praise to you Lord Jesus Christ.
When we are sad and we reach a point where life is very difficult for us there is one word that is important –hope
As long as we have hope there is a reason to live.
Let us Pray:
Help us all Father, to feel your love holding us through the bad times, giving us hope for the future. 
Through Christ our Lord through whom all good things come.
Amen.
In school and at home, we will ask God to help us make good choices and we will think of ways we can live out this week's statement.