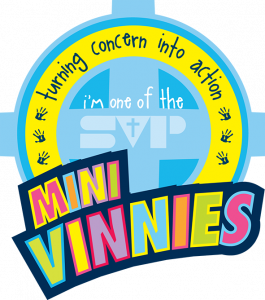 'Mini Vinnies' are children aged between 7 to 11 (or younger) who, with the permission of their parents and the support of their Schools, are encouraged to embark on their first steps as possible 'Vincentians for life'.
To find out more about Mini Vinnies, click on this link: http://www.minivinnies.org.uk/index.php
Special Month of Remembrance:  November Chapel 
In the chapel Mini Vinnies and Chaplaincy have organise special prayer and activity areas for the children to visit in their bubbles. We have a Book of Remembrance, which parents have contributed to using our online from. We also have a selection of special prayers and some poppies to decorate and write prayers on. The children have also added some stories about local soldiers and crosses for the children to decorate and write prayers on too.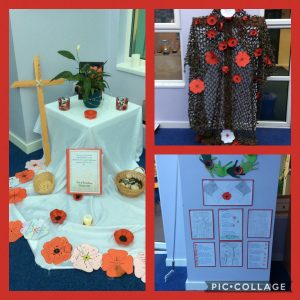 In October…

Through the stories of the Rosary we come to know Mary better. We hear about the happy and sad times in her life and how she was chosen by God to be the mother of his son, Jesus.
When we say the prayers of the Rosary, we ask Mary to join us in our prayers and help carry our prayers to God.
Year 6 Mini-Vinnies and Chaplaincy team will be helping the our children in praying the Rosary. We will be setting up the Chapel each day and creating a virtual rosary presentation. All classes will visit the chapel over the month of October.